About Johnsburg Emergency Squad
Providing Emergency Medical Services for the Town of Johnsburg, NY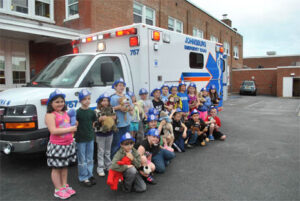 Serving the Community Johnsburg Emergency Squad, Inc.'s mission is to deliver timely, compassionate, professional emergency medical care to the residents of Johnsburg, our neighboring communities, and area visitors.
Providing Quality Care Johnsburg Emergency Squad, Inc. (JES) is a private, non-profit 501 (c) (3) company serving the 2750 residents of the Town of Johnsburg and others in the area. JES holds a NYS Department of Health Certificate Of Need (operating certificate) for the Town of Johnsburg's 206 square miles. A 24/7 Advanced Life Support agency, we are regulated by Mt. Lakes Regional EMS located in Queensbury. Our nearest medical facility is Glens Falls Hospital where our Medical Director, Dr. Albert Jagoda, supervises the delivery of medical care.
All of our medical care providers are certified EMTs or Advanced EMTs or paramedics whose individual work is carefully scrutinized both internally and by our Medical Director.
Each care provider must recertify their credentials every three years and complete training each month.
Helping Our Neighbors Dispatched by Warren County, JES responds annually to 600-700 calls, with approximately 70%of all calls from residents, 12% from Gore Mt. Ski Center, 15% from the Tri-County Nursing Home, and 3% for other events.
We intercept other calls for our northern neighbors in Hamilton and Essex County to lend an ALS tech or deliver needed drugs.
We lend mutual aid to Indian Lake, Newcomb, Minerva, Chester, and northern Thurman. JES stands by to assist seven local fire departments at fires or emergency weather events.
Using Modern Technology JES currently has 3 ambulances:
#756—a 2010 Mercedes Benz sprinter van, a #757—a 2009 Chevrolet E350 and a 2014 Mercedes Benz Sprinter Van
Four certified "fly cars"—personal vehicles equipped with AEDs and other vital equipment and supplies which can get to the scene faster than the ambulance—are utilized. Electronic medical records aboard each ambulance allow accurate record keeping for communication with the hospital
Our state of the art EKG monitor defibrillators (Life-Pak 15) are connected to velocitors which allow the emergency room doctors to actually see what is happening with the patient within the ambulance and prepare a surgical team in advance of the ambulance's arrival if need be.
Radios and cell phones keep the ambulance in communication with the doctors as required.
Who we are Johnsburg Emergency is a combination agency comprised of paid employees and volunteers. Our employees are quality caregivers, highly trained EMTs and Paramedics. Our volunteers are the ones who get them there, drivers who give 12 hours a month, and sometimes a lot more. The squad can't work without volunteers; they are the backbone of the organization.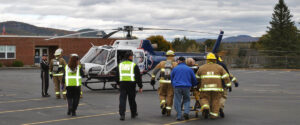 Our Board of Directors Chairperson, Kelly Nessle; Secretary, Sharyn Wright; Directors, Larry Cook, Jake Haker, Phil Johnson, Mark Roberts, Scott Robertson
Our Officers Joe Connelly—CEO/President | Kelly Nessle—Vice-President | Steven Levett—Treasurer | Kevin Fusco—Captain
Our Drivers Matt Aldous, Michael Fahey, Louis Falzerano, Christine Hinckley, Phil Johnson, Steven Ladd, Corey Morse, Juan Pesquera, Pam Sotanski, Brenton Southwick, Joshua Westcott-Felt, Alexis West.
Our Emergency Medical Technicians (EMTs) Andrew Bulmer, Sharyn Fusco, Christine Hinckley, Pam Waterston, Karen Wright.
Our Advanced Emergency Medical Technicians: Kevin Fusco, Simon Gardner, Jon Ordway, Greg Wright
Our Critical Care Technician: Mike Corey
Our Paramedics: Andrew Cawrse, Joe Connelly, Jeff Dunne, Shane Fahey, Audrey Harper, Adam Kinsey, Jake Sauer Jones, Bill Southwick, Andy Teig.
Medical Director Dr. Albert Jagoda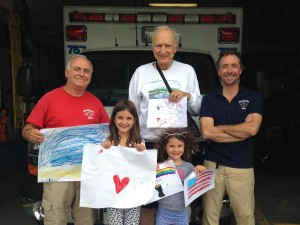 Funding
EMS Johnsburg Emergency Squad (JES) is a private, non-profit, charity organized for the public good. 100% of all funds generated by JES are used to operate an ambulance service within the community. It is also a business that operates 24/7. In November of 2014 the townspeople of Johnsburg passed an ambulance tax district. The money from the district allows the squad to now pay competitive salaries to its employees, and for the first time offer benefits. The squad now provides salaries to its operations manager and president. This year it was able to purchase a much needed third ambulance. All revenue generated from patient billing goes into the tax district, and can only be used for EMS. Each year the squad and the town board put together a budget based on revenue predictions and operational expenses. The tax district ensures that the squad will continue to provide quality and timely care far into the future.
Our rates are based on the services of a paid ALS tech and driver and the use of a well-maintained and well-stocked ambulance. The rates are comparable to the rates charged by other agencies in the area—all of whom have a much shorter distance to cover and much less time devoted to each call. The type of call impacts the cost as the use of drugs and medical supplies affects the costs. We can only charge for the number of miles we transport a patient, thus the miles to the scene of the emergency, the miles to answer a call when we find no patient, the miles covered to find a patient refusing service are all time, wear and tear, and fuel costs not covered.
Our Rates
Basic Life Support Transport $600 | Advanced Life Support Transport $900 | Advanced Life Support Intercept $250 | Mileage $20/mile
These rates are comparable to other rates in the area, and are the best rates paid by the insurance companies. The squad cannot afford to charge less than what insurance companies will pay. This is especially important because the government reimburses at a much lower rate, and 67% of patients have medicaid, medicare, or no insurance.